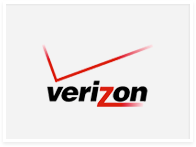 Making complex data
actionable for Verizon's C-suite
Verizon, as one of the largest corporations on the planet, produces mountains of internal data every day. If leveraged correctly, that data can give Verizon executives actionable intelligence to help them better do their jobs. Unfortunately, the C-Suite didn't have mobile access to timely and usable data. They struggled to obtain key performance indicators for each business unit, and they could only access these KPIs via desktop or laptop computers. The user interface on this system was neither intuitive nor engaging and Verizon did not have the available internal development resources to tackle specific initiative. So, Verizon partnered with Copper Mobile to solve this problem.
Verizon's executives already had iPads and used iOS fluently, so it made the most sense to develop the Dashboard KPI for iPad usage. This solved the mobility problem and helped with the usability issue as well. Copper Mobile built a custom user interface that was effortless to use while showing all of the necessary KPIs for each executive's business unit.
The display metrics were easily customizable, letting each executive change the dashboard as needed for his or her business unit. Copper Mobile integrated the solution with each legacy back-end system, meaning any piece of data the C-Suite wanted was a click away. Copper Mobile also designed the app to pull, analyze and display necessary data in real time, exactly as the client required.
Copper Mobile took the time to perform a deep discovery phase to fully understand the client's business needs and any potential obstacles to development. This streamlined the process,
eliminated inefficiencies, and reduced time to market. Furthermore, it ensured that the client received an app that made the most business sense for their specific needs.